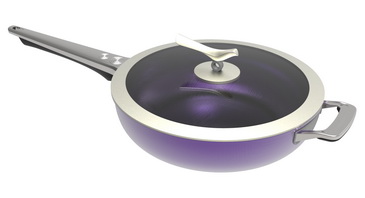 Woks date back 2,000 years to the Han Dynasty in China. The word "wok" means "cooking pot" in Chinese, and the pans are used for a variety of cooking tasks. While woks are best associated with making stir-fries in the U.S., any food that benefits from a centralized heat source and large, consistent cooking area can (and should!) be cooked in a wok. That means woks used for braising, making sauces, soups, deep frying, steaming and more.
Woks traditionally have rounded bottoms so it won't move around on your stove, and very smooth, rounded edges, perfect for heating quickly and evenly over a small flame. They typically have long handles with a hole for hanging that allow them to be shaken during cooking, and stay cool. The lid is made of tempered glass and can withstand high temps. A wok with a lid will make your life a lot easier especially when you cook Chinese food. A lot of time the ingredients need to simmer and be covered during cooking. So the wok with a lid will make cooking food much easier.
It's made from heavy gauge hard-anodized aluminum with three layers of nonstick coating on the cooking surface for durability, how well non-stick works will depend on the individual coating and how it is applied. And of course the nonstick coating helps prevent the food from sticking and burning, which is a risk when stir-frying.